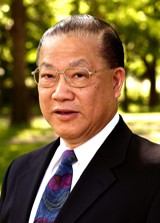 William Shung, Indepndent Broker
Languages spoken:
English, Chinese
What products can I help you with:
Life Insurance, Health Insurance, Disability Insurance, Critical Illness Insurance, Medical Life Insurance, Seniors Insurance, Mortgage Insurance, Long-Term Care Insurance, Retirement, Estate Planning
William's background:
William was born in Johannesburg, South Africa. As former life insurance and long-term care advisor for the Knights of Columbus - the world's largest Catholic fraternal service organization - he is well versed in the changing needs of Canada's aging population.
William holds both an Elder Planning Counselor and a Fraternal Insurance Counselor designation and is able to advise on a variety of insurance plans including life, long-term care, critical illness and disability. In a former life, he was a renowned marketing and advertising guru.
He held directorial positions in several multi-national advertising agencies and visited Southeast Asian capitals such as, Manila, Bangkok, Kuala Lumpur and Singapore on their behalf. William is fluent in both English and Chinese.
What others say about William Shung:
"William is a very knowledgable insurance broker and a great colleague at LSMI. He is dedicated towards helping his clients and is very honest and reliable. I wish him all the best in the future."
Aman Kapur
"William is an excellent insurance advisor and has been a strong addition to the LSM team.
He has extensive knowledge of the different life and living benefit insurance products and has very strong communication skills. He is fluent in traditional Chinese."
Lorne Marr
"William is a very honest, trustworthy person. He is a very skilled professional who always puts the customer first."
Chantal Marr
Contact William Shung
Important:
By submitting this form, you confirm that your contact data is correct.
Where we are located:
We are located at: Markham, ON L3R 5G3, Canada
Publications with my contribution: